Wisconsin upholds various statewide laws that can influence how to obtain — and who can obtain — free Wisconsin state records online.
Our goal is to include pertinent information regarding how to find state records in Wisconsin to make the search process easier and faster. Thus, making it easier for individuals to find specific information online, and oftentimes, for free.
Wisconsin Open Record Laws
Wisconsin, as a state, contains public record laws that determine who can see what information on another individual. The Wisconsin Open Records Law, created in 1982, is a series of laws that allows the public access to records from governing bodies at various levels, including county and state levels.1
Wisconsin describes any record as a document created or kept by any official agency. Therefore, individuals have access to any document created or kept by an agency, such as criminal records, marriage certificates, birth certificates, and other important information.
For the most part, any person has the right to inspect and request Wisconsin state records (ex: criminal records, court records, vital records, inmate records, etc.) in the state of Wisconsin.2
Records are accessible, but it depends on the laws and regulations surrounding a specific record. It's not always as easy as using a search engine and clicking on the first results, but it depends on the specific regulations surrounding the state and the charges.
Furthermore, some states only allow residents access to public records, whereas other states allow residents and non-residents to access public records.
However, some individuals are not allowed to request a record, such as those who are incarcerated or committed to a mental institution. In this case, they are prohibited from accessing public documents.
Lastly, the requester of the records must comply with the regulations on how the information is used and/or distributed. Certain investigative records, computer programs, public library circulation records, and trade secrets are exempt from the Open Records Law and are considered confidential.
Criminal Records of Wisconsin (WI)
Searchers will benefit from knowing that Wisconsin criminal records contain a person's complete criminal history (ex: convictions, sentences, parole violations, verdicts) from local, county, and state jurisdictions, such as law enforcement departments, state correctional facilities, and county courts.3
Criminal records in Wisconsin contain the following:
The subject's name and information
Known contact
Physical descriptions (race, height, weight, age, distinguishing marks)
Court disposition
Jail information
Parole information
Conviction status
Charge information (if the person has been charged with a crime)
Are Wisconsin (WI) Criminal Records Public Information?
Criminal records are public information in Wisconsin due to the Open Records Law, which states public criminal records are available to individuals and entities through record custodians (The Department of Justice in Wisconsin).
The Wisconsin Department of Justice Crime Information Bureau contains criminal history record information and keeps it available to the public through the Online Record Check System.
Individuals who want to look up someone's criminal record must know basic information before the search, such as the subject's name and last known location.
How to See If Someone Has a Criminal History in Wisconsin
Individuals can obtain Wisconsin state records through various methods.
Online
The Wisconsin Department of Justice Crime Information Bureau, known as the CIB, provides the public with access to criminal records through the Wisconsin Online Record Check System. Individuals who wish to perform a search can do the following:
Visit the WORCS website
Create a user account or click "Public Access" to check out as a guest
Submit the name, date of birth, gender, and race. For most accurate results, use the individual social security number too
Perform the name-based criminal search
Pay the required fee ($10) per record
The other online option for individuals who wish to see if a person has a criminal history is to visit the Wisconsin Circuit Court Access page to perform a public criminal record check without paying a fee. The searcher must know the subject's name and date of birth.
Offline
For individuals interested in finding public records for an individual through offline methods, they should do the following in Wisconsin:
Identify the county of interest (ex: Door County) and type in 'Wisconsin Door County Clerk' in a search engine
Choose the official website for the county clerk
Click the link
Click on 'Our County'
Choose 'Clerk of Circuit Court'
Click on 'Record Requests'
Follow the directions of calling to make the request (online method), faxing a request, or mailing the request. Individuals can mail the request to:
Door County Clerk of Courts
1205 S Duluth Avenue
Sturgeon Bay WI  54235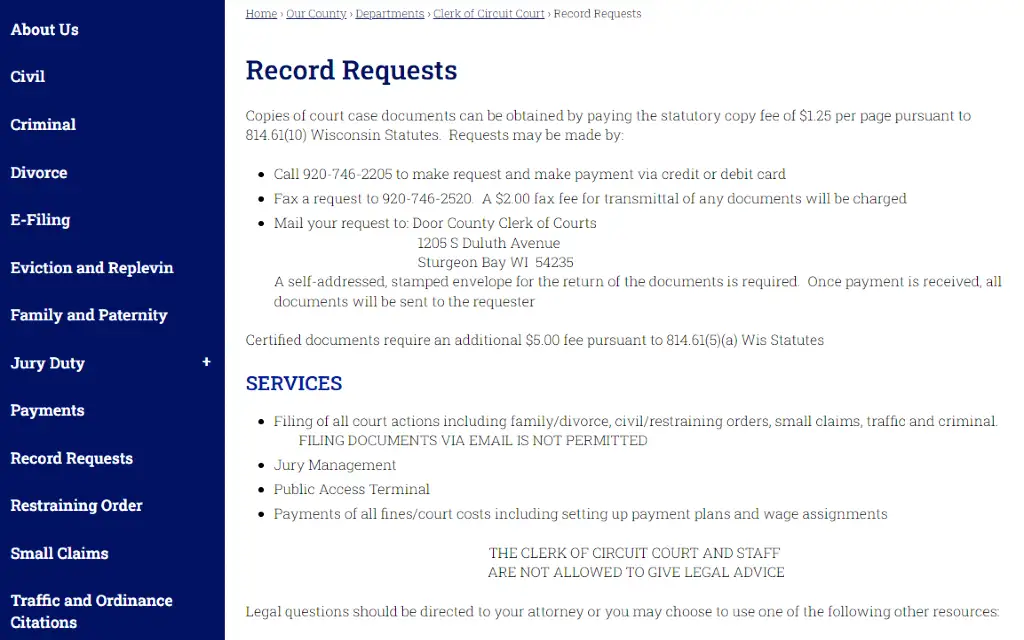 Furthermore, individuals can use more offline ways to request criminal records and mail the request to the CIB. Searchers can submit Single Subject Requests or Multiple Subject Requests and send them to the CIB at the following address:
Crime Information Bureau Attn: Record Check Unit
PO Box 2688
Madison, WI 53701-2688
Wisconsin police departments will maintain arrest records and submit them to the CIB, which manages the criminal history repository. Therefore, individuals can also visit the arresting agency and pay the fee to access their criminal history. Another way individuals can access Wisconsin state records is by using the state website.
In addition to the method above, our resource on free Wisconsin state background checks, arrests and criminal records provides a comprehensive list of other criminal record custodians and contains every county sheriff's office and jail's contact information which streamlines the process of finding recent arrests.
Can Anyone See a Juvenile's Criminal History in Wisconsin?
Juvenile criminal records in Wisconsin provide official crime data committed by individuals who are not yet considered adults in the legal system.4 These individuals are tried in juvenile court. Juvenile records in Wisconsin are barred from the public and access is limited to specific groups of people.
Only the following groups can access a juvenile's criminal history in Wisconsin:
Service provider on the case
Judge of the juvenile court
The juvenile
Parents or guardians
Surrogate
The DA
The juvenile department
How to View Arrest Warrants (Free Wisconsin Warrant Search)
An arrest warrant is a document signed by a judge representing a local or state law enforcement agency that authorizes the police to arrest or detain the person in the warrant document.5
Wisconsin does not have a central database that holds current warrants and allows the public to conduct an active warrant out a search. Therefore, those interested in finding arrest warrants must check at the county level. Another resource that individuals can use in Wisconsin is to use a federal tool, such as the U.S. Marshall's Warrant Information System.
Individuals can also find and view arrest warrants in Wisconsin by searching the court system's Consolidated Court Automation Programs (CCAP). This website is an online database that contains court records, including bench warrants associated with both civil and criminal cases.
Individuals must keep in mind that this is a state-only database — those who have a federal warrant will not appear on the CCAP. Lastly, certain types of records are not available through this database, such as child protection cases and juvenile cases.
How Do I Check for Sex Offenders Nearby? (WI)
Individuals can use the Wisconsin Department of Corrections sex offender registry. This registry was created in 1997 to help those in the community protect their families and their neighbors.
Individuals can visit the Sex Offender Registry website and click on 'Agree' to continue. After they have clicked continue, they must enter the first and last name of the sex offender to continue.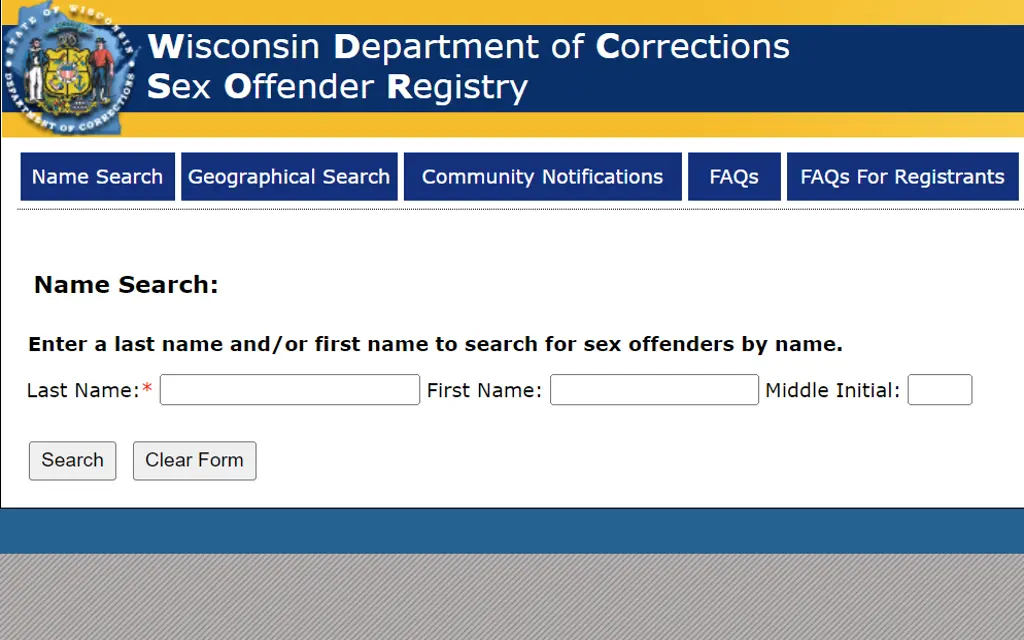 Individuals can then browse the search results to find the name, aliases, and primary residence of the sex offender in the area.
Individuals searching for sex offenders in their area or the state as a whole must keep in mind that registered sex offenders do not have to notify their neighbors of their status. However, residents in the state can receive notifications on the location of sex offenders by registering with the Wisconsin Department of Corrections Sex Offender Registration Program website.
Wisconsin Background Checks – The Ins & Outs
Individuals must understand the different types of Wisconsin background checks and how to find information at the local, state, and federal levels.
County Clerk Search
The first type of background check is a county clerk search that can help provide the subject's information to the searcher. Individuals can use the Wisconsin County Clerks Association to choose the desired county, find contact information, and gather Wisconsin state records (ex: election administration, marriage licenses, domestic partnerships, etc.).
Court clerks can help individuals find public records, determine if a person's record has been expunged, and view a court disposition regarding a person's specific case and charges.
Criminal Background Check
A criminal background check is a thorough background examination that determines if a person has a criminal history. In this check, the searcher will obtain a criminal history report.
This report will appear on a criminal background check and includes criminal charges that are older than seven years ago (but not civil lawsuits, civil judgments, liens, collection accounts, bankruptcies, or arrests without convictions).6 The information on the criminal history report includes:
Arrest date
Criminal case number
Charges
Offense level (misdemeanor vs. felony)
Disposition
Disposition date
Sentencing
Background Check for Employment
In Wisconsin,  employers may conduct a background check to see if the candidate in question is suitable for the role. As an employer, the individual has a right to know about potential criminal background, but they are limited in certain methods and have limitations in how they can find out or use information. Employers conducting a background check must adhere to the Fair Credit Reporting Act and Title VII.7
Free Background Check
Individuals can conduct a free criminal background check in Wisconsin by submitting a request to the Wiscon Department of Justice through the online record check system and inputting the subject's name, date of birth, and/or social security number.
Wisconsin Court Records: Explained
Wisconsin court records are public due to the Wisconsin Open Records law, allowing citizens to obtain copies from government authorities regarding specific individuals. This enables the general public to understand the dealings of the government and records kept by government officials.
Wisconsin state records are open to inspection by the public or copying except for in specific cases and exemptions. When an exemption is made, the public cannot access this information, whether through expunged records, sealed court records, state laws, federal laws, investigation information, juvenile status, or privacy invasions.
In Wisconsin, public records are available for public consumption through third-party paid services, free resources, organizations, and government sources. Users should be aware of free third-party searches, as this can provide inaccurate or incomplete information. If a person uses a third-party service, they should use a reputable and paid organization for the most relevant results.
It is also important for individuals to note which courts handle cases in Wisconsin. There are four types of courts in Wisconsin — the Supreme Court, Court of Appeals, Circuit Courts, and Municipal Courts.
Supreme Court — Appeals for criminal and civil cases or original proceedings for writ applications
Court of Appeals — Appeals for criminal and civil cases, appeals for writ applications, and appeals by permission for administrative agency cases
Circuit Court — Exclusive jury trial and hearing for small civil claims up to $10,000
Municipal Courts — Traffic and other violations
How Do I Find Someone's Court Records & Court Cases in Wisconsin?
Wisconsin court records can be accessed through the Wisconsin Open Records CCAP court system, an online database that provides free public access to court case records. Individuals can use this search to find pending supreme court cases, circuit court cases, and cases through the Supreme Court & Case of Appeals.
In addition, the Wisconsin Supreme Court and Court of Appeals provide public access to case files through the WSCCA website.8 Users can search the WSCCA website by inputting the appeal number, circuit court case number, name of the individual, business name, or attorney name.
The information provided on the WCCA portal includes the name of the parties involved in the case, description of the case type, court official working the case, and the status of the case (pending vs. closed). In criminal cases, there may be explanatory notes on the portal which are not included in the official transcripts or documents.
The WCCA portal contains all case file information retained by the Clerk of Court for the past 20 years regarding civil cases and misdemeanor cases. For felony criminal cases, the WCCA portal contains the records for 50 years.
Individuals who wish to obtain court records in Wisconsin will have to pay a fee to get a certified copy of actual court documents. Obtaining court record copies costs $1.25 per page, whereas certified copies are $5 per document. Individuals can also access these documents offline through the court clerk offices.
How Do I See if Someone Filed Bankruptcy in Wisconsin
Wisconsin bankruptcy records contain the following information:
Name and contact information of the party
Name of creditors and contact information
Date of filing
Address of the courthouse where the bankruptcy was filed
Copies of active liens or mortgages
Financial statements
Tax records
Assets
Probate
Liabilities
Income
Repayment plans
Type of bankruptcy filed
Credit notices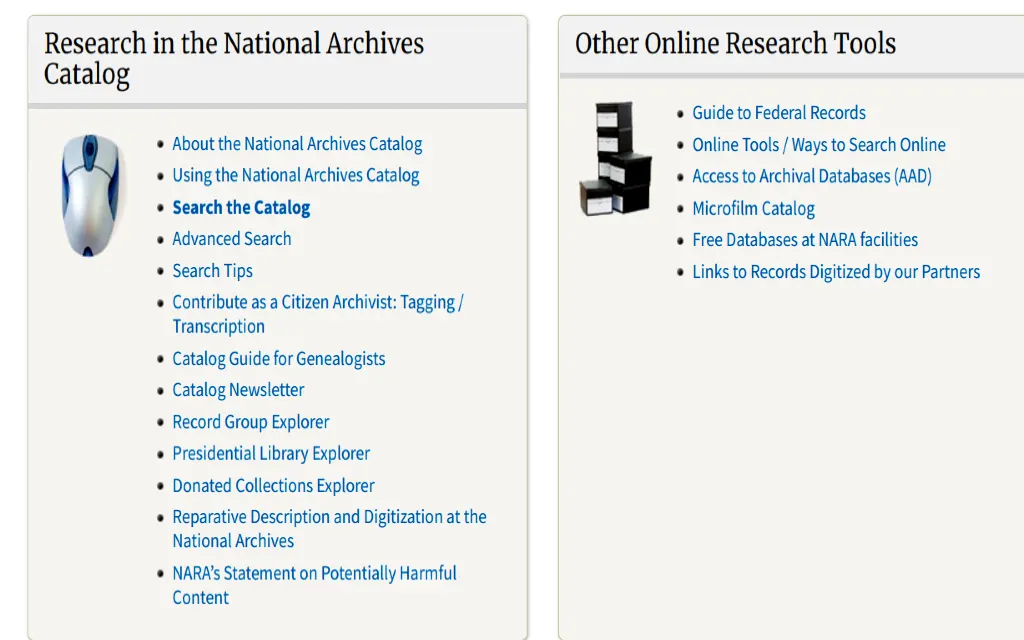 Wisconsin allows bankruptcy records to be requested through the PACER system, known as the Public Access to Court Records system. This format allows users who register with the PACER website to access official records online. In addition, Wisconsin provides the Voice Information System, which allows anyone to call the court's database and access case information.9
Furthermore, individuals in Wisconsin can use the Wisconsin District Courts to find archives and electronic bankruptcy notes from the courts. Individuals can submit a written request or call the court clerk's office to get copies of the records.
For someone specifically seeking archived documents, they can also utilize closed bankruptcy cases through the National Archives website.
Locating Wisconsin Inmates & Obtaining Inmate Records
Wisconsin inmate records contain the following information:
Physical descriptors (height, weight, age, distinguishing marks)
Full name
Department of Corrections number
Prison sentence details
Conviction offense
Court file number
Maximum sentence length
Conviction type
Inmates can be housed in the city, county, or regional jails if it was a recent arrest. While offenders being prosecuted for more serious crimes will be located in a state or federal prison.
How Do I Find Someone in a Local Wisconsin Jail?
Individuals can find a person who was arrested in Wisconsin or who has currently housed in jail thanks to the Wisconsin Open Records Law. Wisconsin police departments provide public arrest records and submit them to the state's Investigation Bureau and fingerprint public records depository. Therefore, individuals can perform an arrest search by visiting the arresting agency or going online to the Wisconsin Online Record Check System website.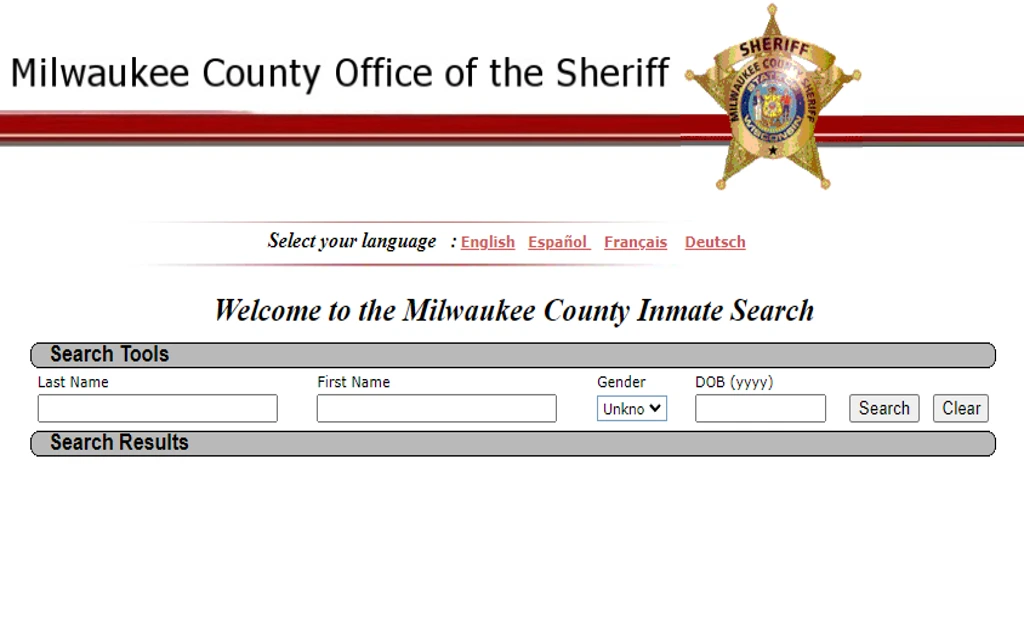 To learn how to get jail paperwork, individuals can use the local county government websites. For example, if a person is searching for an individual in jail in Milwaukee County, they can do the following:
Search 'Wisconsin (County Name) Sheriff's Office
Click on the link
Enter the last name, first name, gender, and date of birth of the person in question
Individuals can also use VineLink to find an offender in a specific location. They have to input the location (Wisconsin) and the name or ID number of the person in question.
Can I Look at Mugshots of Recent Arrests in Wisconsin?
Individuals can find mugshots of recent arrests in Wisconsin by looking at arrest records through the local law enforcement agency, county sheriff's office, or state police department. Wisconsin Police Departments and the criminal courts both maintain current arrest records, mugshots, and warrants.
Find Prisoners in Wisconsin (State & Federal Penitentiaries)
Individuals can conduct a prison check to find out if someone was detained for a serious offense. It is easier than people may think to find recent arrests, inmate release dates, parole information, and public Wisconsin state records in the criminal court system.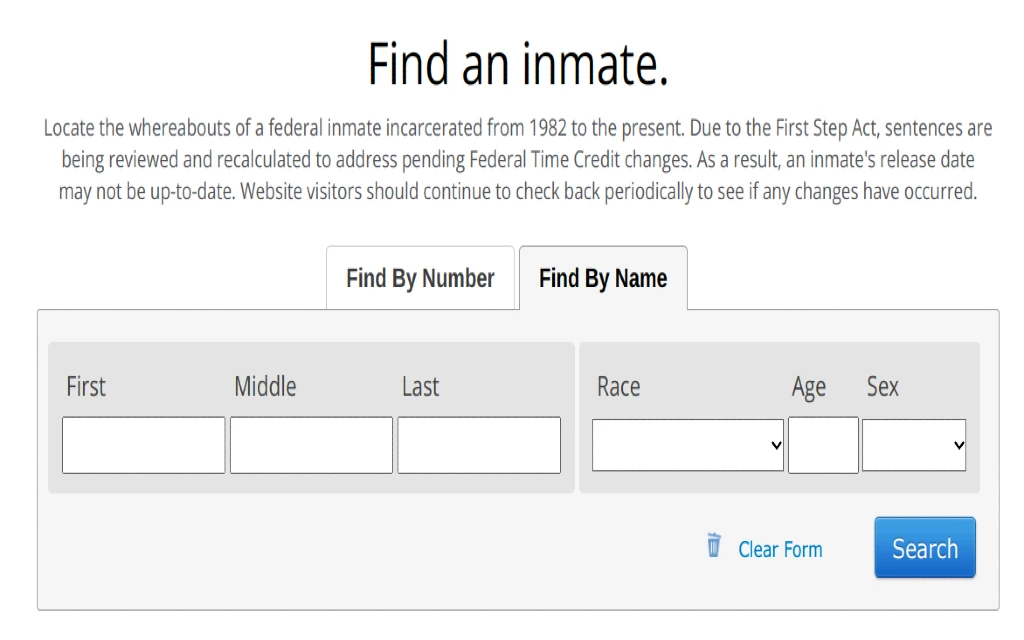 Individuals should learn how to find federal prisoners by using the following steps: 
Individuals can find a federal prisoner by visiting the Bureau of Prisons website.
They must input the case number or personal information of the prisoner
The first way individuals can find an inmate in state penitentiaries is to use the Department of Corrections inmate locator.
Click on the link and click on 'agree' to continue
Input the necessary information (last name, first name, race, birth year, gender, age range, address, or identification number)
Individuals can also find out if someone has a criminal record in Wisconsin by doing the following steps:
Visit the Department of Corrections website
Next, click on 'Adult Facilities' to find the corresponding institution or treatment facility for the inmate in question
Click on the correct location (ex: Columbia County)
Use the contact information to call the facility
Individuals can then read the visiting information before going to the facility, such as the visiting hours, contact phone number, and scheduling service.
These steps are helpful in finding out an inmate's release date, how to visit an inmate, and how to send money to inmates in a specific jail.
All About Wisconsin Vital Records (Free Divorce Records in Wisconsin)
Vital Records mainly contain birth, death, marriage, and divorce certificates, but can vary depending on the state.10 The Wisconsin Vital Records Office is the body that holds all Wisconsin vital records and is in charge of keeping, editing, protecting, and copying these records.
Individuals can order records in the online directory through VitalChek or through one of the local Vital Records Offices in the state.
Does Everyone Have Access to Vital Records in Wisconsin (Free Marriage Records in Wisconsin)?
Vital records are considered public records in accordance with Wisconsin laws, including information such as marriage records, public divorce records, birth certificates, death certificates, and other documents. To give readers an idea of how prevalent divorce is within the state, the following image shows the percentages of the divorced population in each Wisconsin county.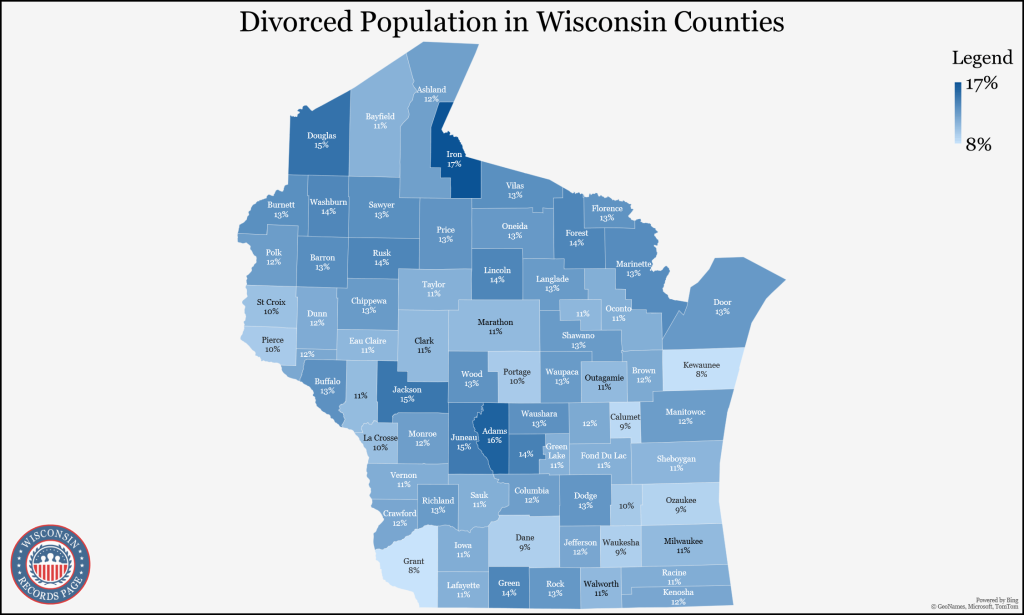 Searchers who wish to find vital records must have the following information:
Requestor's relationship to the party on the record
Reason for the record request
Date of the event
Gender of the party
Age of the party
city/location where the event occurred
Father's name and mother's maiden name for birth certificates
Statewide or countywide search
What's the Fastest Way to Check if Someone is Married or Divorced Free in Wisconsin?
Are marriage records public? In Wisconsin, yes.
Marriage records in Wisconsin reconsidered public records, making it easy for anyone to find a marriage certificate. However, obtaining certified copies is limited to legally permitted individuals (the couple who was married, immediate family members, or legal representatives). If a record is not publicly accessible to everyone, searches can use third party sites to obtain information that the state can't provide.
If a person wants to obtain marriage record copies that are not certified, they can do so by contacting the Wisconsin Department of Public Health or the Wisconsin Register of Deeds to find marriages issued at the county level.
Individuals who wish to use the Vital Records Office can access marriage records by filling out the marriage record application form, including the fee of $20, and sending it via USPS mail to the following address:
Wisconsin Vital Records Office
PO Box 309
Madison, WI 53701
Furthermore, individuals can use the same method as above to find a divorce certificate for an individual in Wisconsin. By completing a divorce record application form, paying the fee, and sending the request form to the Vital Records Office, individuals can find out if the subject is divorced.
How Do I Order Replacements Death & Birth Certificates in Wisconsin?
Individuals can obtain a birth certificate and/or certificate of birth by submitting a birth certificate application form in person or via mail to an applicable office and paying $20.
The interested party can submit a death record request for a death certificate/certificate of death by inputting the deceased's name, date, and place of death. The person conducting the search must complete the death record application form and submit it in person or by mail to the Wisconsin Vital Records Office.
1Wisconsin FOIA Laws – National Freedom of Information Coalition. (n.d.). National Freedom of Information Coalition. Retrieved May 28, 2022, from <https://www.nfoic.org/wisconsin-foia-laws/>
2Wisconsin Open Records Law. (n.d.). Ballotpedia. Retrieved May 28, 2022, from <https://ballotpedia.org/Wisconsin_Open_Records_Law>
3Crimes and Criminal Records. (n.d.). Background Checks. Retrieved May 28, 2022, from <https://www.backgroundchecks.com/learning-center/crimes-and-criminal-records>
4What are Juvenile Records and Do They Show Up in Background Checks? (n.d.). Criminal WatchDog. Retrieved May 28, 2022, from <https://www.criminalwatchdog.com/faq/what-are-juvenile-records>
5Warrant Types. Warrant &amp; Disposition Toolkit. (n.d.). Retrieved May 28, 2022, from <https://www.wdmtoolkit.org/business-processes/warrant-process-flow/warrant-types>
6Rodgers, M. (2022). Wisconsin Background Check: A Complete Guide [2022]. Retrieved May 28, 2022, from <https://iprospectcheck.com/wisconsin-background-check/>
7Understanding the Fair Credit Reporting Act. (n.d.). Experian. Retrieved May 28, 2022, from <https://www.experian.com/blogs/ask-experian/credit-education/report-basics/fair-credit-reporting-act-fcra/>
8Need Wisconsin Circuit Court Data? (n.d.). Retrieved May 28, 2022, from <https://wisconsincourtdata.com/>
9How to use PACER. Pioneer Law Office. (n.d.). Retrieved May 28, 2022, from <https://www.pioneerlawoffice.com/how-to-use-pacer/>
10Vital Records. National Archives. (n.d.). Retrieved May 28, 2022, from <https://www.archives.gov/research/vital-records>
11Door County. Accessed 5 May 2023. <https://www.co.door.wi.gov/181/Clerk-of-Circuit-Court>
12Wisconsin Department of Corrections Sex Offender Registry. Accessed 5 May 2023. <https://appsdoc.wi.gov/public>
13National Archives, 23 September 2022. Accessed 5 May 2023. <https://www.archives.gov/research>
14DOJ WORCS: Welcome to WORCS. Accessed 5 May 2023. <https://recordcheck.doj.wi.gov/>
15Federal Bureau of Prisons. Accessed 5 May 2023. <https://www.bop.gov/inmateloc/>